Nice People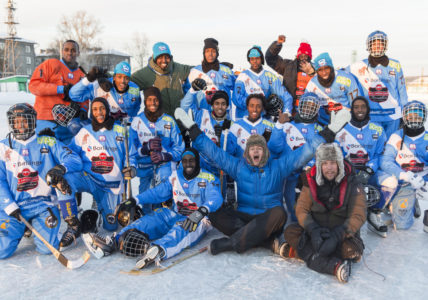 Filip & Fredrik presenterar Trevligt folk
Section: €Docs
Sweden
2015 / 96 min.
Director: Karin af Klintberg, Anders Helgeson
Cast: Pelle Fosshaug, Sebastian Dahl, Osman Abdullahi,  Ahmed Deeq Abdulle,  Ahmed Mohamed Ahmed
Documentary
Swedish version with English and Czech subtitles
Contact: First Hand Films

What happens when a Swedish coach and some young, untrained Somalis decide to take part in the World Championships?
Borlänge is a small town in Sweden, home to some really nice people, according to the words in its emblem. But not everyone is happy about the community of Somali immigrants that has settled there. To aid their integration, Patrik Andersson, a local idealist, decides to put together a Somali bandy team (a Swedish game similar to ice hockey). Despite the fact that the World Championships are a mere eight months away, and that none of the young Somalis have ever stood on skates, Andersson's enthusiasm remains undampened. A documentary comedy about one man's unique fight against prejudice and his unshakeable faith that where there is a will, there is a way.
Awards: Budapest IDF 2016: Audience Award. Hamburg FF 2015: Audience Award.
Program
| Mon | Tue | Wed | Thu | Fri | Sat | Sun |
| --- | --- | --- | --- | --- | --- | --- |
| | | | | | 1 | 2 |
| 3 | 4 | 5 | 6 | 7 | 8 | 9 |
| 10 | 11 | 12 | 13 | 14 | 15 | 16 |
| 17 | 18 | 19 | 20 | 21 | 22 | 23 |
| 24 | 25 | 26 | 27 | 28 | 29 | 30 |
DEF
se mi
líbí