Truman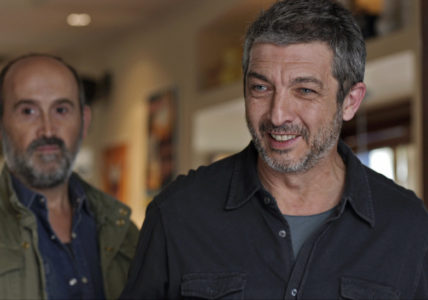 Two men and a dog. A film about the power of friendship and helping your neighbor.
Julián receives an unexpected visit from his friend, Tomáš, who has been living in Canada. The unannounced visit, however, is not without cause. Tomáš has learned Julián is seriously ill and has come to cheer him up. What was meant to be a short visit becomes for both men a cathartic journey of coming to terms with life, with past grudges, and with bidding farewell to those held dear. The most difficult task, though, becomes finding a new owner for Julián's dog, Truman, which sets in motion a series of unexpected events. This unsentimental motion picture about great friendship and accepting the adversities of life spoke to both audiences and critics from around the world. Receiving five awards, it was the absolute winner of the Goya Spanish film awards.
Awards: Goya Awards 2016: Best Film, Director, Original Script, Leading Actor, Supporting Actor. Gaudí Awards 2016: Film in non-Catalan language, Direction, Script, Leading Actor, Supporting actress, Supporting actor. Feroz Awards 2016: Leading Actor, Script. San Sebastián IFF 2015: Golden Shell to Best Actor. Vilnius FF 2016: Audience Award… and many other awards.

Program
| Mon | Tue | Wed | Thu | Fri | Sat | Sun |
| --- | --- | --- | --- | --- | --- | --- |
| | | | | | 1 | 2 |
| 3 | 4 | 5 | 6 | 7 | 8 | 9 |
| 10 | 11 | 12 | 13 | 14 | 15 | 16 |
| 17 | 18 | 19 | 20 | 21 | 22 | 23 |
| 24 | 25 | 26 | 27 | 28 | 29 | 30 |
DEF
se mi
líbí