Long Way North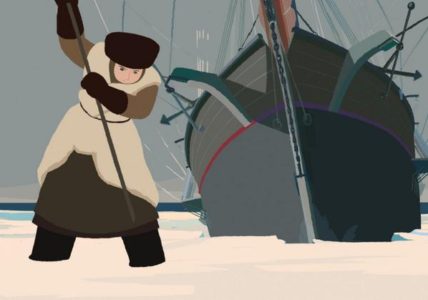 Tout en Haut du Monde
Section: MEDIA – Animation now!
France, Denmark
2015 / 81 min.
Director: Rémi Chayé
Animated movie / Czech dabing
In Czech version: Viktorie Taberyová, Zdeněk Maryška, Zuzana Slavíková, Tomáš Juřička, Jiří Ployhar and others
Contact: Artcam

Charming visuals and a powerful story with a likeable heroine set in an untraditional environment.
Fifiteen-year-old Sasha is the daughter of wealthy, aristocratic parents in Russia at the end of the 19th century. She dreams about the far north and mourns the fate of her grandfather, Olukin, a prominent scientist and polar explorer who has not yet returned from his last expedition, conquering the North Pole. Exploratory Sasha has been bestowed with her grandfather's passion, but her parents, who have already begun arranging her wedding, will hear none of it. Sasha decides to defy her fate. Running away from home, she is determined to find Olukin… Even if it means going all the way to the North Pole.
Awards: Annecy International Animated Film Festival 2015: Audience Award. Tokyo Anime Award 2016: Grand Prize.

Program
| Mon | Tue | Wed | Thu | Fri | Sat | Sun |
| --- | --- | --- | --- | --- | --- | --- |
| | | | | | 1 | 2 |
| 3 | 4 | 5 | 6 | 7 | 8 | 9 |
| 10 | 11 | 12 | 13 | 14 | 15 | 16 |
| 17 | 18 | 19 | 20 | 21 | 22 | 23 |
| 24 | 25 | 26 | 27 | 28 | 29 | 30 |
DEF
se mi
líbí