Shaun the Sheep Movie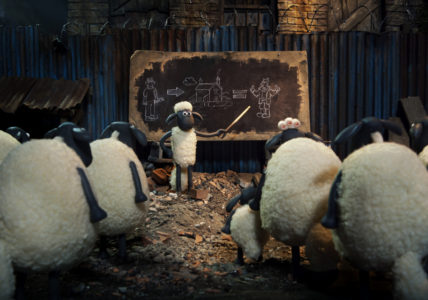 Shaun the Sheep Movie
Sekce: MEDIA – Animation now!
Great Britain
2015 / 85 min.
Director: Mark Burton, Richard Starzak
Animated movie / Without words
Voices: Justin Fletcher, John Sparkes, Kate Harbour, Omid Djalili
Contact: Bohemia MP

A story about how we often cannot appreciate the important things in life, and sometimes even forget about those who love us.
Life on the farm is interminably boring. The days are always the same, Shaun must listen to the farmer and do what he says.  If only he could have one free day. In need of a proper plan, Shaun comes up with a scheme to take the day off. But plotting is not as easy as it seems, and even the best laid plans can go awry! Shaun and the other sheep know how to trick the farmer into falling asleep. One after another, they leap the fence as the farmer counts and counts and counts, finally nodding off. The sheep carry him carefully to a camper in the corner of the playground and pretend it is night. When the farmer's trusty dog, Bitzer, discovers what the sheep have done, the plot is foiled. Bitzer tries to rescue the farmer from the camper, but it comes loose, and despite all barriers, rolls out onto the street with the sleeping farmer still inside. Bitzer runs after the camper which is headed for the city. Shaun and the rest of the herd take care of the farm. Farmer and dog do not return, and the farm is consumed by chaos. With Shaun in the lead, the herd sets out to the city to find the farmer and his faithful Bitzer, and amend their wrong. Many adventures await them on their journey. Will Shaun and his friends succeed in finding their farmer before he is lost forever?
Awards: Anima Mundi Animation Festival 2015: Jury Award. British Animation Awards 2016: Best Long Form. Toronto Film Critics Association Awards 2015: Best Animated Film. And nomination for Oscar.

Program
| Mon | Tue | Wed | Thu | Fri | Sat | Sun |
| --- | --- | --- | --- | --- | --- | --- |
| | | | | | 1 | 2 |
| 3 | 4 | 5 | 6 | 7 | 8 | 9 |
| 10 | 11 | 12 | 13 | 14 | 15 | 16 |
| 17 | 18 | 19 | 20 | 21 | 22 | 23 |
| 24 | 25 | 26 | 27 | 28 | 29 | 30 |
DEF
se mi
líbí