The Illusionist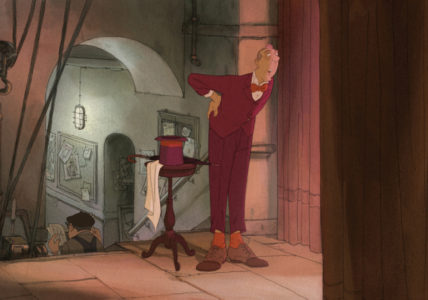 An elderly magician continues to perform the same tried and true tricks he always has, only to discover no one cares about them anymore.
A British-French coproduction, this animated film came about on the basis of a 1956 screenplay by Jacques Tati which never saw the silver screen.  Dedicated to his eldest daughter, it tells the tale of an elderly illusionist who travels from village to village performing his magic show. One day in a forgotten hamlet, he meets a young admirer who believes he can really make miracles. From that day on, their lives are never the same…
Awards: César Awards, France 2011: Best Animated Film. European Film Awards 2010: European Animated Feature Film. International Cinephile Society Awards 2011: Best Animated Film. New York Film Critics Circle Awards 2010: Best Animated Film. And other prizes including nomination for Oscar.

Program
| Mon | Tue | Wed | Thu | Fri | Sat | Sun |
| --- | --- | --- | --- | --- | --- | --- |
| | | | | | 1 | 2 |
| 3 | 4 | 5 | 6 | 7 | 8 | 9 |
| 10 | 11 | 12 | 13 | 14 | 15 | 16 |
| 17 | 18 | 19 | 20 | 21 | 22 | 23 |
| 24 | 25 | 26 | 27 | 28 | 29 | 30 |
DEF
se mi
líbí