Song of the sea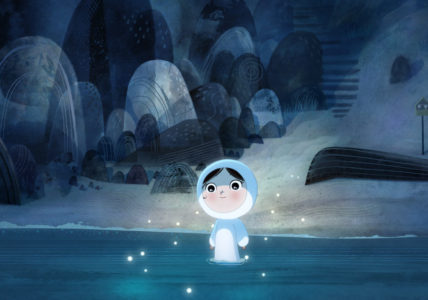 Sekce: MEDIA – Animation now!
Ireland
2014 / 93 min.
Director: Tomm Moore
Animated movie
Czech version
The voices: Markéta Irglová, Miroslav Krobot, Matěj Převrátil, Klára Nováková, Libuše Švormová, Petr Lněnička a další
Contact: Aerofilms

The tale of the last selkie.
In the fabled land of the ancient Celts, a father lives with his daughter and son in a lonely lighthouse. The whole family is turned upside down when they discover the little girl is in fact the last selkie. Only she, by singing the song of the sea, can save the fairytale creatures turned to stone by Macha, the witch. After his highly acclaimed animated tale, The Secret of Kells, (nominated for an Oscar), Irish director, Tomm Moore, has returned with another enchanting feature length film. The gorgeously animated world of Celtic mythology and potent narrative about the power of love between mother and siblings has caused the young director to be compared to the masters of animated film and earned him his second Oscar nomination.
Awards: European Film Awards 2015: Animated Feature Film. Irish Film and Television Awards 2015: Best Film. Melbourne IFF 2015: People's Choice Award. Shanghai IFF 2015: Best Animation Film. Tokyo Anime Award 2015: Grand Prize, Governor Prize. And other prizes.

Program
| Mon | Tue | Wed | Thu | Fri | Sat | Sun |
| --- | --- | --- | --- | --- | --- | --- |
| | | | | | 1 | 2 |
| 3 | 4 | 5 | 6 | 7 | 8 | 9 |
| 10 | 11 | 12 | 13 | 14 | 15 | 16 |
| 17 | 18 | 19 | 20 | 21 | 22 | 23 |
| 24 | 25 | 26 | 27 | 28 | 29 | 30 |
DEF
se mi
líbí